The Top 5 Reasons you should Work Remotely from Puerto Rico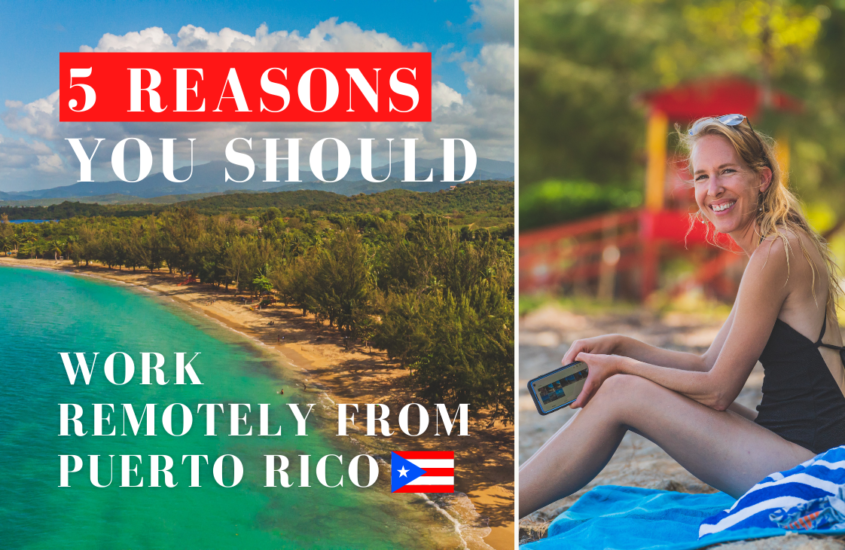 The Top 5 Reasons you should Work Remotely from Puerto Rico
Would you like to work remotely with views of turquoise water and amazing Caribbean sunsets? Well you can! We were fortunate enough to escape the North American winter and head to Puerto Rico for the months of February and March. We worked remotely and traveled throughout the island enjoying the warm breezy weather and laid back island vibe. 
In this article we give our top five reasons you should be considering Puerto Rico as your next remote working destination.
EASY ACCESS AND NO WORK VISA REQUIRED
If you're a U.S. citizen all you need is a form of identity to get you to the island so you can start working remotely right away! Your driver's license is all you need to get to Puerto Rico. Plus you will need it to rent a car since you'll want to get out of San Juan and do some exploring. You can watch our video here all about driving and renting a car in Puerto Rico.
TIP: There are multiple non-stops into the San Juan Airport from the mainland United States and as of April 1st 2021 Aguadilla and Ponce airports are back open.
Since Puerto Rico is a U.S. territory you do not need a passport or even a work visa. Perfect for longer stays like beating the winter blues. Another bonus, no international phone plan. Your mobile phone will work just like it does on the mainland of the United States.
INTERNET
This was a big one for us since we work from our laptops and it's how we make money!
Researching this topic before going to Puerto Rico we had read some mixed reviews about the stability of the internet, mostly due to power outages. BUT we also read a lot of good reviews and we're happy to report we barely had any issues.
We experienced internet speeds averaging 60 – 100mbps down and 5 – 15 mbps up in our VRBO's. Hotel internet speeds were a bit more variable in our experience.
In fact, according to a new article from The Weekly Journal "Puerto Rico had the second-fastest internet speed in Latin America and the Caribbean." The article reports that Puerto Rico's average download speed was just under 35 mbps, higher than the United States mainland!
TIP: We booked our accommodations through VRBO. Ask your host about the internet speed before booking or request they send you a speed test. We did this and it worked great, our hosts were happy to answer our questions.
WARM TROPICAL CLIMATE
Let's continue with more of the pros working from Puerto Rico. A big one for us was the weather.
Puerto Rico's temperatures average 85 °F (29 °C) in lower elevations and 70 °F (21 °C) in the mountains. December is the start of the dry season and lasts until March. The wet season begins in April and lasts through November. So it's pretty much warm and tropical all year around with humidity ranging from 70%-80%. The countless sunny days definitely lifted our spirits and it was nice being able to keep the windows open all the time and feeling the warm trade winds.
ALL OF THE AMAZING BEACHES!
If you're a beach person Puerto Rico is for you! The water is warm year round with water temperature ranging from 26 °C (79 °F) between January and March to 29 °C (84 °F) between August and October. With almost 300 miles of coastline there are endless beautiful beaches to explore.
We spent the month of March 2021 living and working in Rincon and took walks on the beach everyday, usually in the morning and then at sunset. Not only was it a good way for us to get some exercise but it also gave us a mental break from the grind of work and doubled as a good excuse to get some vitamin D.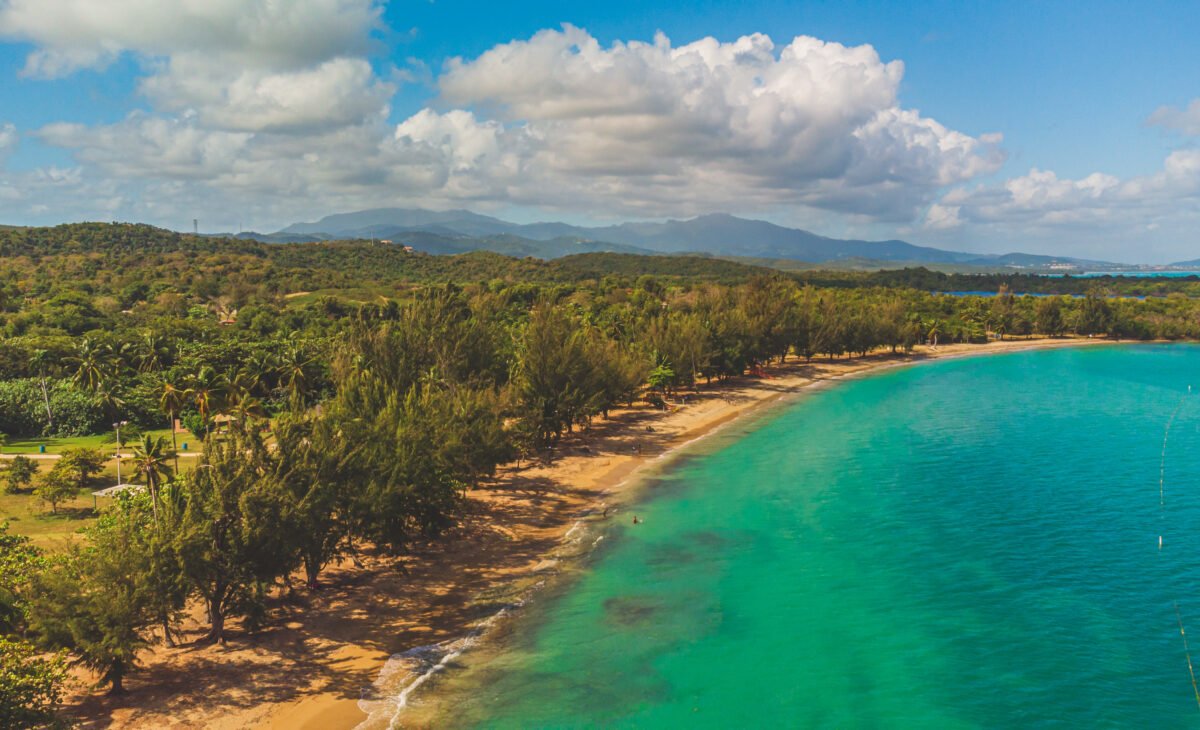 OUTDOOR ACTIVITIES
When we started researching Puerto Rico and all it had to offer we quickly realized that 2 months might not be enough. There are a ton of things to do and see in Puerto Rico and you will never be bored. From surfing in Rincon to walking the streets of Old San Juan or even sailing from Fajardo to gorgeous remote islands just off the coast, there's something for everyone.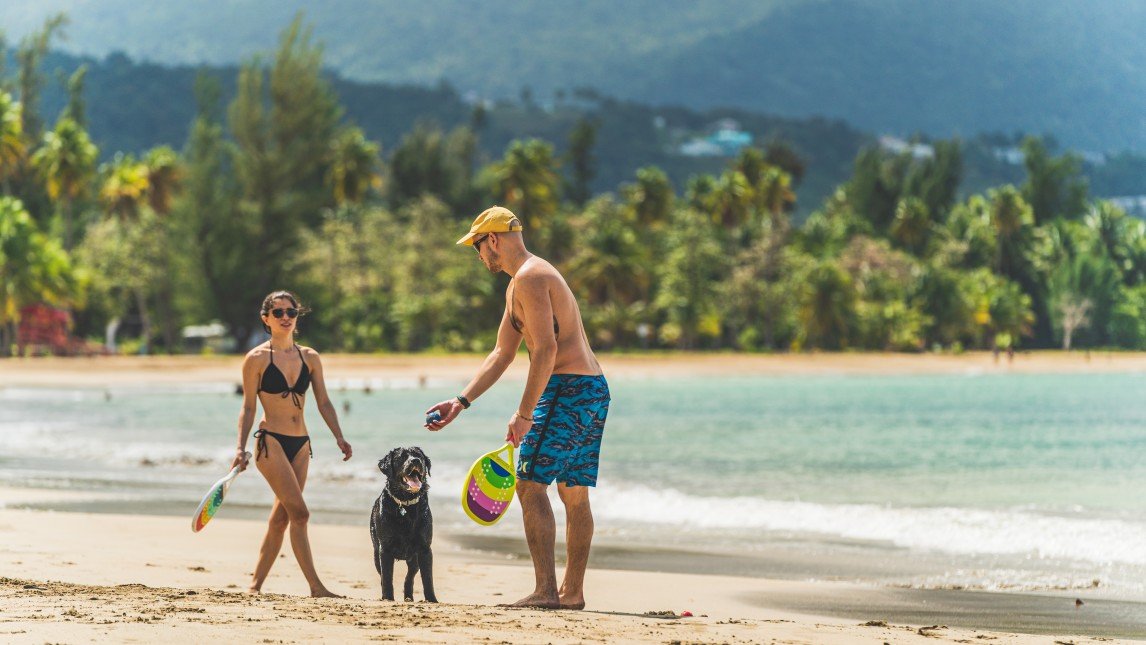 If you're a digital nomad, work remotely for a company, or just want to enjoy an extended vacation in the Caribbean we would highly recommend Puerto Rico. We really truly felt like we were living in paradise and we can't wait to plan our next trip back to this enchanting island.
If you're wondering what it would be like to work remotely in Puerto Rico you can visit Discover Puerto Rico's website dedicated to remote workers. You'll find some discounts on hotel stays and even information about a medical concierge service.
Have you considered working from Puerto Rico?
Let us know in the comments