Cost of Living: Portimao, Portugal – Affordable for Digital Nomads?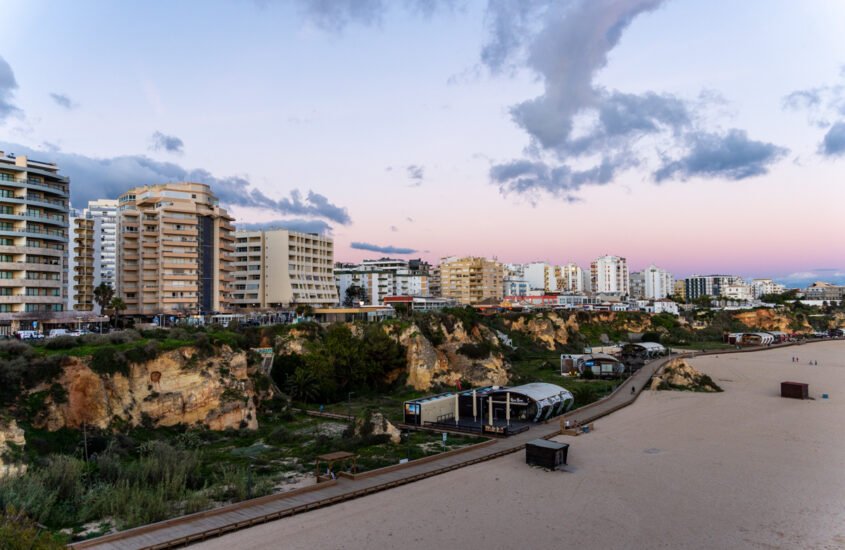 We were excited to finally take the plunge and experience life in the beautiful Algarve region of Portugal. After spending a month living in the Algarve in the charming city of Portimao, we can definitively say it was worth the wait!
From its beautiful beaches, stunning coastline and affordability it's easy to see why this region is a magnet for expats, nomads and vacationers alike.
In this article we are going to break down our cost of living in Portugal as American digital nomads. We lived in the Algarve during the winter in Portimao, Portugal.
Joins us as we discuss our cost of living in Portimao, Portugal! We share our expenses like accommodations, grocery costs, dining out, transportation, experiences and our fixed costs like travel insurance and our phone plan. All of the prices are provided for cost of living in Portugal in US dollars.
Living in Portugal as an American
Portugal living offers a unique and diverse lifestyle for those who are looking for something different. The Algarve region boasts a rich culture, beautiful landscapes, mild winters and tons of sun.
But like any place, there are also challenges and drawbacks to consider, especially when living location independent as a digital nomad, as an expat or even working remotely.
There are Pros and Cons to living in Portugal as a digital nomad as well. For instance, it's important to be aware that your cost of living will be higher than that of a local resident.
What are the Average Costs of Living in Portimao, Portugal?
According to Numbeo, the cost of living in Portimao, Portugal is around $1,500 for an expat.
A search on Nomadlist estimated the costs to live as a nomad are $2,233.
With inflation and housing costs skyrocketing in the U.S. and the U.K. its easy to see why so many british and americans living in portugal as expats.
What are the costs for digital nomads or slowmads like us? Or more specifically is it expensive to live in Portimao as a full time travel blogging couple? Well read on as we get into our numbers and a bit of commentary.
How Much is it to Rent an Apartment in Portimao, Portugal?
For our stay in Portimao we booked a long term rental through Flatio.com. This was our first time using the platform and we were very pleased with how easy it was to use and communicate with our landlord. So much so in fact that we became affiliates!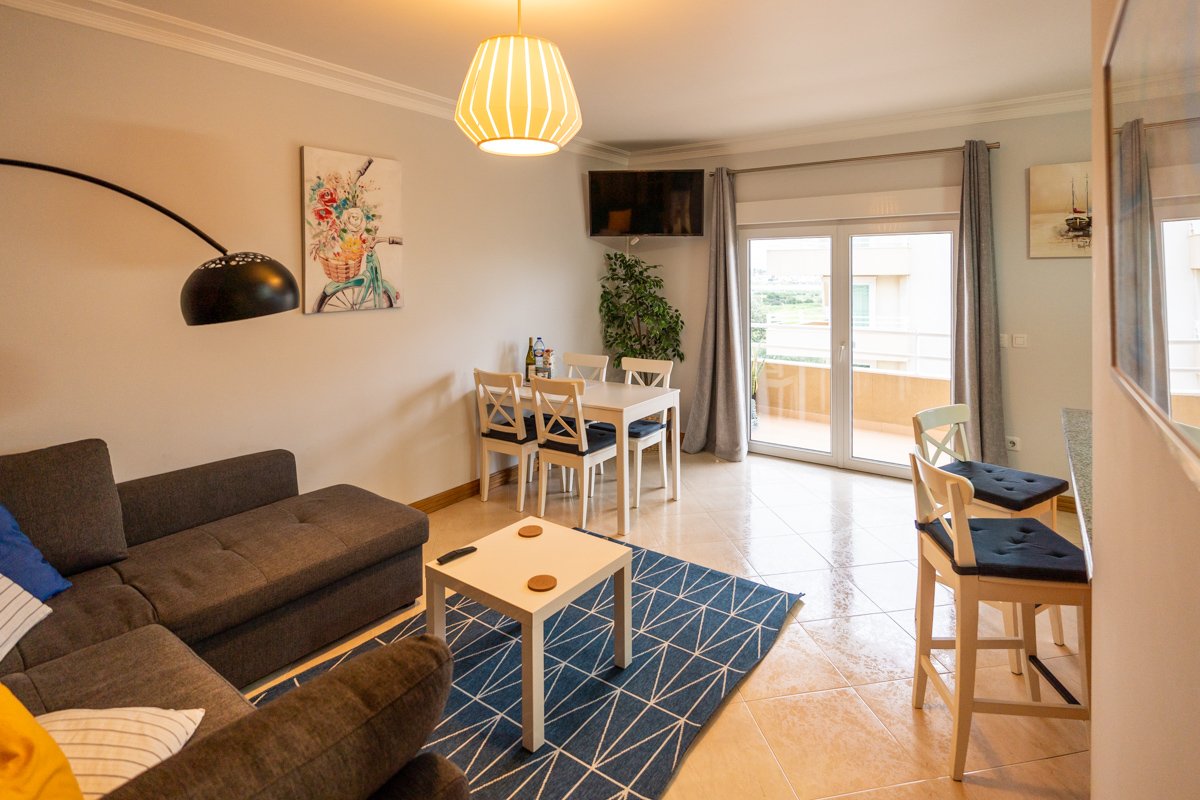 Our Portimao apartment was a nicely decorated 1 bedroom and 1 bathroom with a roomy kitchen, living room and a large balcony. Our apartment was ideally located 3 blocks from the main promenade with easy access to lots of food and drink and the beach.
The apartment was fully stocked with everything we needed – not just the basics, but all the extras too!
We were pleasantly surprised to find enough toilet paper for the full 30 days, detergent for the dishwasher and washing machine, hand soap, shampoo, shower gel and even a free cleaning. This is a rare occurrence indeed in our travels!
This was one of the best stays we've had in over 3 years of full time travel!
Our landlord even left us a complimentary bottle of wine, snacks, olive oil and some spicy peppers which we put to good use in the kitchen!
| | | | |
| --- | --- | --- | --- |
| | OUR COSTS | LOCALS COST (NUMBEO) | NOMAD LIST |
| Rent | $930 +$140 Service Fee | $650 | $2,476 |
| Utilities | included | $85-$130 | included |
| Totals | $1070 | $735-$780 | $2,476 |
More Accommodations options in Portimao
Grocery Costs in Portimao, Portugal
Are you wondering what the grocery situation is like in Portimao?
As the largest city in the western region of the Algarve, you'll find plenty of grocery stores nearby. Within a 10 minute walk from our apartment, we found an Intermarche and Spar, both of which cater to the resort area, Praia de Rocha. Although smaller than some stores, you can find all the essentials you need to cook meals at home.
It was just a 25-minute walk (or 5 min car ride) further into town that would bring you to an Aldi, Lidl and Continente Portimão—all within 5-minutes from each other.
The Continente is a large grocery store, similar to ones found in the United States, located in a small mall on the first floor. Shopping here was convenient and we found prices to be a bit more expensive than other stores—but still a great option if you're looking for a one-stop shop.
Our grocery costs include breakfast, snacks, adult beverages like beer or wine and also included household items like toilet paper, detergents and the like.
Although at this apartment we didn't have to spend money on household items as much as we usually do since our landlord provided all those.
Overall we have found that groceries in Portugal are fairly affordable when compared to the United States.
One thing to keep in mind is that the quantity or size of items are generally smaller in Europe compared to the United States.
So a bag of chips or snacks could be really cheap but the quantity is also a lot smaller.
| | |
| --- | --- |
| Groceries (Includes beverages, Alcohol, snacks, breakfast and household) | $412.39 |
Want to earn up to 60,000 bonus points for travel? We use our Chase Sapphire Preferred card to earn points for all of our travels and you can to. Sign up and you will get 60,000 bonus points after spending $4,000 in the first three months your account is open.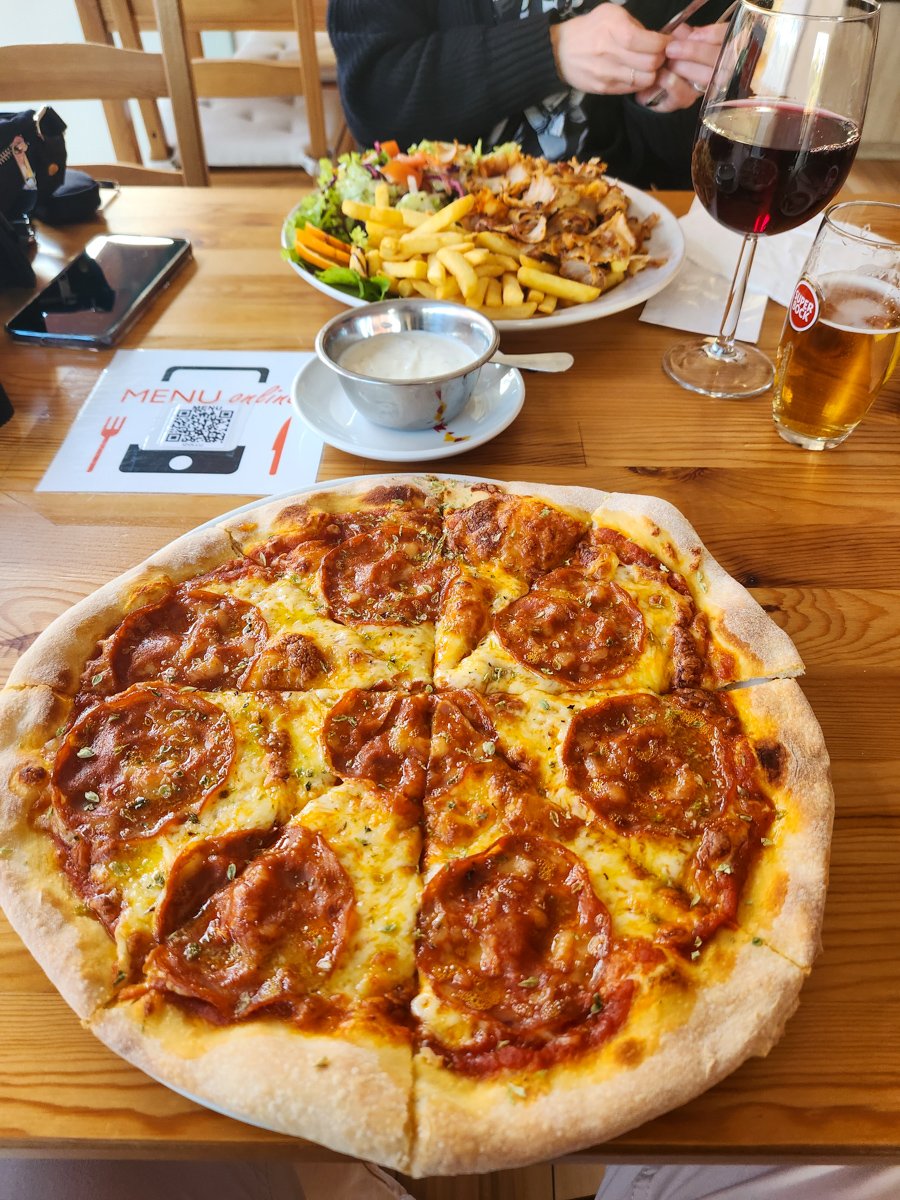 How much did we spend dining out in Portimao?
During our time living in Portiamo we took advantage of all of the great grocery stores with access to our favorite go to foods. That meant we cooked a good deal in awesome kitchen of our apartment. Not all or our accommodations have nice kitchens so when you have one you us it!
None the less we did enjoy meals out at some of the restaurants with stunning views. It would be a shame not to right?
Dining out for us usually means enjoying a few adult beverages with our meals. We include drink costs in out totals as it is nearly impossible for us to sort those separately.
TIP: Tipping in Portugal is not expected, but 5%-10% is appreciated
| | |
| --- | --- |
| Dining Out (Meals & Drinks out) | $306.32 |
What can you Expect to Pay for Drinks at Portimao Restaurants?
We found that drinks out at restaurants, snakbars and beach bars in Portimao were really affordable vs US. Here is an example of some drink cost: beers at restaurants were between $2-$3 and wine by the glass could easily be found for $2.50-$4.00
How much does beer and wine cost at the Grocery stores in Portimao, Portugal?
In the the grocery stores in Portimao, Portugal you could easily find a 12oz. (33ml) can of beer for $.73 or a 6 pack of 10 oz (25ml) beers (again everything is smaller) for under $5.
A bottle of wine will run you as little as $1.50 (yes you read that right!) to $10.00. The sweet spot, in our extensive and delicious research, seems to be around $2.75 – $4 for a tasty bottle.
Also remember all of these prices already include tax. Which can be an additional savings of over 10% when compared to grocery cost ins the untied States.
What are the Transportation Costs in Portimao?
During our stay in Portiamo we did not rent a car. Unlike our time in Rincon, Puerto Rico and Fajardo Puerto Rico. Although we do have our international drivers license in case we wanted to rent one.
We used public transportation and rideshares when it was too far to walk, or just weren't feeling it. This included taking the bus for our day trips to the beautiful cities of Lagos and Ferragudo in Portugal.
You can also get inexpensive train tickets to the surrounding towns as well!
We found that rideshares such as Uber and Bolt were much more affordable than in the United States.
Our rideshare from Ferragudo back to Portiamo cost us only $8.63 – even with surge pricing! It was a great way to get around, and we were very happy with the affordable cost.
It cost us less than $6 to get to and from the train station to our stay near Praia de Rocha.
| | |
| --- | --- |
| TRANSPORTATION | |
| Public Transportation | 34.59 |
| Rideshares | 18.07 |
| Car Insurance | Our U.S. policy covered Credit Card covered Damage Waiver |
| Totals | $52.66 |
Activities in Portimao, Portugal
This is our category for all of the activities and any experiences that we partake in where we are staying. Depending on where we are, we try to book experiences that will let us see and explore our surroundings.
Things to do in Portimao, Portugal
There are of course a lot of things you can do in Portinaio!
Enjoy the many beaches, explore the neighboring towns, dolphin tours, stand up paddle board (SUP), snorkeling, scuba diving, drinks on the beach and more!
We chose to stay in the Algarve during the off season which we found out is January through about the middle of April. Many activities like boat tours were not running and a lot of the little kiosks were all closed up.
However we found that you can still book dolphin watching tours and the famous Benagil cave tours in nearby Lagos, but be prepared to bundle up and watch the weather conditions. The tour operators will cancel if the water is too rough.
While in Portimao we took advantage of our proximity to the popular Praia da Rocha beach and the gorgeous coastal hikes you can do in the area. We would walk the promenade at sunset or enoj a sundowner taking in the breathtaking sunsets. We basically kept ourselves entertained doing a lot of (mostly) free stuff!
Sometimes we find cool experiences talking with other nomads or on Facebook groups. But often we like to book our bigger experiences through a travel experience site like Viator or Get Your Guide.
Our total Activates costs (minus the sundowners) for both of us were:
Our Fixed Costs while Traveling as Nomads
We also have a couple of fixed costs that we have every month no matter where we are living abroad or even living in Portugal. Here are the fixed costs related to our time in Portimao, Portugal.
Travel Medical Insurance
We use Nomad Insurance from SafetyWing during our time living in Portugal. SafetyWing provides travel coverage plus Medical benefits worldwide.
Coverage for Both of Us was: $136.08
You can read more about Travel Medical Insurance here.
⚕ Are you covered with International Travel Medical Insurance? Get worldwide coverage with SafetyWing
Mobile Phone Service
Our phones are pretty much an extension of our lives as travel bloggers and a fixed cost for us.
We have been using T-Mobile phone service for several years now while traveling, both domestically in the United States and internationally. Our T-Mobile service worked just like in the United States or our time living in Bulgaria.
As a bonus, included with our T-Mobile service is also some entertainment like Netflix, AppleTV and Paramount +.
We were on the T-Mobile Magenta Max plan during our time in Portugal and since Joel is a veteran of the U.S. Air Force, we also get a nice discount.
VPN
We use a VPN (virtual Private Network) while traveling as an extra layer of protection for our financial transactions while traveling.
VPN's are also great for unlocking geolocated websites and services like our favorite streaming services while abroad.
We are using Surfshark as our VPN of choice. Surfshark does not log your activity and has an excellent price too.
Our total fixed costs for 2 people were:
| | |
| --- | --- |
| Travel Medical Insurance (Surfshark) | $136.08 |
| Mobile Phone & Internet | $112.50 |
| VPN (Surfshark) | $2.21 |
| Total Fixed Costs | $250.79 |
Our Total Costs to live in Portimao, Portugal as Digital Nomads
Quick note: your costs will likely be different from our costs. Your costs to live as a nomad in Portimao will vary based on your accommodations, dining out and the experiences you partake in. You can definitely spend a lot less or even a lot more!
So what were our total costs of living in Portimao, Portugal for one month stay?
Finally our cost of living in Portimao, Portugal as digital nomads is going to be a lot higher than locals or retirees. Anyone living for years at a time gains a lot more advantages to being in one place.
This is the downside to the digital nomad lifestyle. Not staying in one place long enough to get those long term savings. We are looking at you accommodations!
Our total costs for 2 people were:
| | |
| --- | --- |
| | OUR COSTS IN Portimao |
| Total Costs | $2,092.16 |
Were our costs too much or too little? Let us know.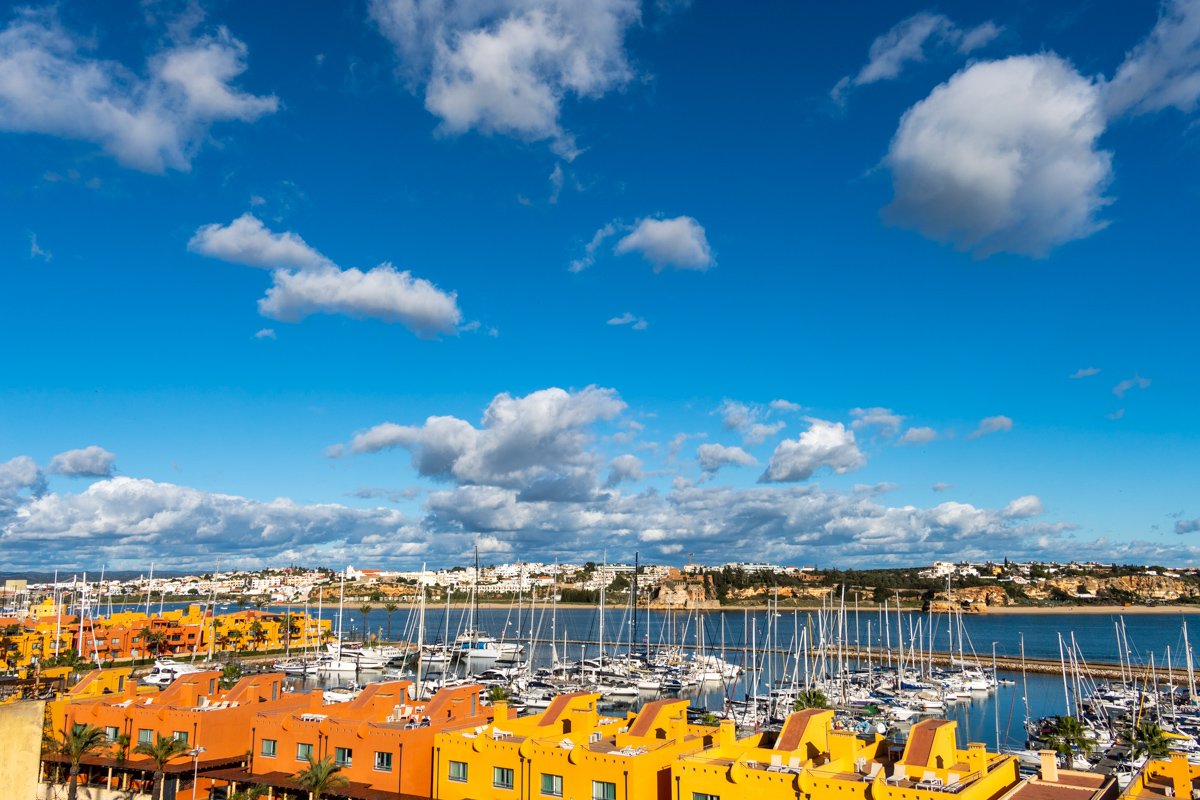 Final Thoughts about our Cost of Living in Portimao, Portugal
We understand that it's important to have an idea of the costs associated with living in Portugal. That is why we want to share our real-life expenses during our stay in the Algarve with the intention of assisting you in planning your budget for your own time in Portimao.
If you are considering moving to Portimao as a remote worker, digital nomad, or retiree, we hope that our experience can provide some helpful insights.
Finally, there are other costs that we are not including like life insurance and medications as those are pretty specific to your situation.
We are also not including airfare and our other travel blogger business costs. As these vary or are not relevant to most of our readers.
Overall, our stay in Portimao was a pleasant one and we found the Algarve to be not only beautiful but, also affordable. We enjoyed the peaceful atmosphere, the wonderful beach walks, and the occasional glass of wine in the afternoon sun.
The off-season may have had its limitations, but it also provided us with the opportunity to focus on our work-life balance and truly enjoy our stay. Work, Play, Repeat.
Be sure to check out our other Cost Of Living articles from our travels around the globe.
FAQ for Cost of Living Portimao, Portugal
Where is the Algarve Region in Portugal?
The Algarve region is located in the southernmost part of Portugal, on the Atlantic coastline. The region is easy to reach by air, with Faro Airport providing popular access to the Algarve. You can also reach the Algarve by bus, car and train from Lisbon. 
How Cold is the Algarve in the Winter?
The Algarve, located in the south of Portugal, enjoys warm, sunny weather throughout the year, but during the winter months it can feel quite cold. Average temperatures in the winter months range from 8-12°C (46-54°F). Daytime highs can reach up to 18°C (64°F), while nighttime lows can drop as low as 5°C (41°F) . Rain is also quite common throughout the winter, so you should be prepared with a waterproof jacket, dress in layers and bring a sweater!
You might also be interested…